| | |
| --- | --- |
| Posted by forecastingtool on March 20, 2011 at 4:48 PM | |
When I show the Social Network movie, I was intrigued by the way that Facebook came out of nothing and gradually evolved to the most successful social media site today. It launched on 2004 and reached the first million active users by the end of the same year. After 2004, it really went sky high, reaching 500 million active users, in less than 6 years! Naturally, I was amazed and asked myself the obvious question: how far this could go on without stopping. Will it reach 1 billion users and when?
To make this forecast, I used the Forecasting Tool application. I punched in the active users data starting from the end of 2004 up to July of 2010 (the latest data from Facebook timeline), and pressed the SOLVE button.
The result came back in a few seconds: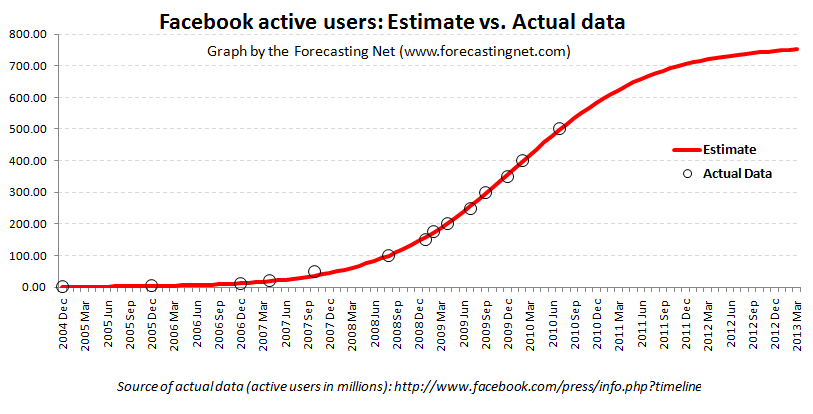 Facebook, according to the forecast, has already exceeded 600 million users, by the beginning of 2011 (It will be interesting to wait for the first official 2011 data from Facebook to verify this!). It will continue to grow-but at decelerating rates-reaching its maximum value near 750 million users by the end of 2012. So, if the current trend continuous, and no significant new decisions or policies emerge from Facebook's headquarters to further enhance user acquisition, then Facebook will not reach 1 billion but near 750 million instead. Even so, an extraordinary achievement!
You can download the Facebook active users case study here.
*Source of active users: http://www.facebook.com/press/info.php?timeline