| | |
| --- | --- |
| Posted by Forecasting Net on January 30, 2013 at 6:15 PM | |
It's been four years since the still raging global economic crisis begun in 2008. Although our understanding of the crisis is getting better, we still don't have a clear idea where the global economy is heading and what kind of growth (if any) we should be expecting in the future.
According to an article published by Elsevier in early 2011, based on the Interaction Systems' model of the global economy, global GDP is expected to almost double by the end of 2030 compared to its current level (see Fig.1). However, growth will be moderate and below the high rates of the pre-crisis period. In fact, for the remaining of the decade, from 2013 to 2020, the model estimates an average global GDP growth rate around 3.8%. For the next decade, growth is expected to decline even more to approximately 3.1% by 2030.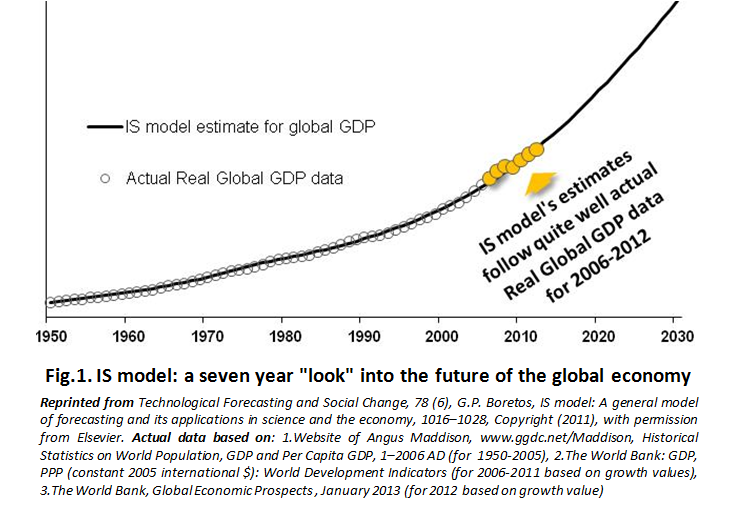 So far, the IS model's predictions, using actual data only up to 2005 for the fitting process, followed quite well actual global GDP values for the years 2006 to 2012, offering a seven year "look" into the future of the global economy. If the prediction of the IS model also proves right for 2013-onwards, then we should expect a mild recovery of the economy in the following years. However, this is a delicate, fragile growth that could be easily overturned by hasty or erroneous decisions …