Recently, LinkedIn released user statistics from as back as 2004 up to 2011. Apparently, the successful professional network has now more than 135 million accounts and keeps on growing at high rates. Since the number of users is one of the most important measures of the success of a social network, the obvious question that comes in mind is how large will LinkedIn get in the future.
Once more, I used the Forecasting Tool to perform the forecast. I just entered the data and the result came back instantly: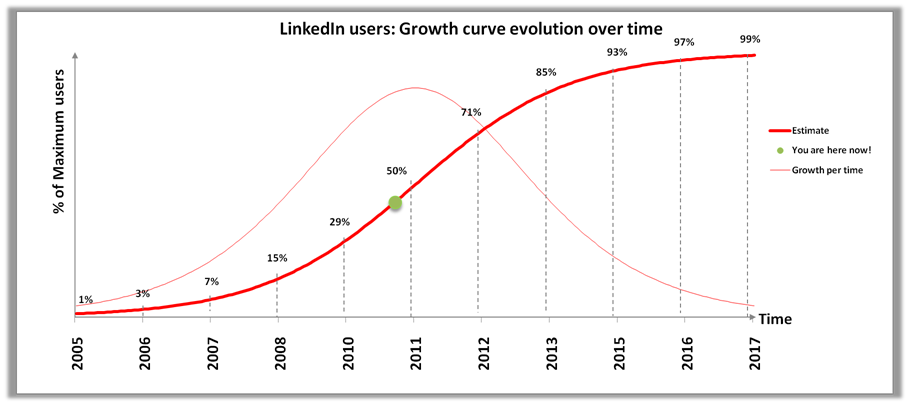 It seems that LinkedIn's growth curve is now half way through its completion at a level near 260 million users. Undoubtedly, a large number! But, how impressive is this, given that Facebook has already reached 800 million users? To answer this, we have to consider that these networks target different audiences, so, they have different addressable markets to capture. Facebook aims at all individuals and professionals, i.e. all the 7 billion persons living in our planet. On the other hand, LinkedIn targets mainly the 640 million professionals around the world. Therefore, Facebook with its 800 million users captures 11% of its market, where LinkedIn with 135 million users has a much bigger penetration, near 21%. That's an impressive performance for LinkedIn, which still has a lot of potential for growth in the future.
Of course, we should keep in mind that this forecast is just an indicator of users' evolution, since the data provided by LinkedIn are approximations of the actual user count per year and the 135 m figure for 2011 could be even higher by the end of the year. Moreover, the forecast is based on the current underlying trend, which may change to an upward or a downward direction, if something new occurs; for instance, if a new competitor appears (Facebook is striving to attract new business pages although at the time it doesn't pose a significant threat), new offerings / policies are launched by LinkedIn (the same happened when LinkedIn launched the open discussion groups in 2011), or if LinkedIn decides to expand geographically (as it recently did in Korea). In any case, I believe that LinkedIn has a long way to go and a lot of nice surprises to offer to the professional world in the future.
You can download the LinkedIn users case study here.
UPDATE DEC 2012: Apparently, LinkedIn's has already reached 187 million users, which is very close to what we predicted a year ago by using the forecasting tool!
adverb: πριν ένα χρόνο, πέρυσι